The U.S. trade deficit decreased in December, according to the U.S. International Trade in Goods and Services release on February 7th. The trade deficit in December was $44.3 billion, down $1.5 billion from the month before. Exports increased by $5.0 billion while imports increased only $3.6 billion. Although the deficit decreased during December, now that we have a full year of data for 2016 we can see that the trade gap increased 0.4% over the year. 

Source: U.S. Bureau of Economic Analysis, Net Exports of Goods and Services [NETEXP]
The U.S. added 227,000 nonfarm payroll jobs in January. The January Employment Situation report indicated that the sectors with the most job gains were retail trade, construction and financial activities. The unemployment rate for the nation was 4.8%.  
Real Gross domestic product (GDP) by state increased at an annual rate of 2.8% for Arizona in the third quarter 2016. GDP increased the most in South Dakota at 7.1% and New Mexico GDP had a decrease of 0.1% for the third quarter, placing it last among all states. Both wholesale trade and finance and insurance were leading contributors to economic growth for Arizona and the nation during the third quarter according to the February 2nd Bureau of Economic Analysis release.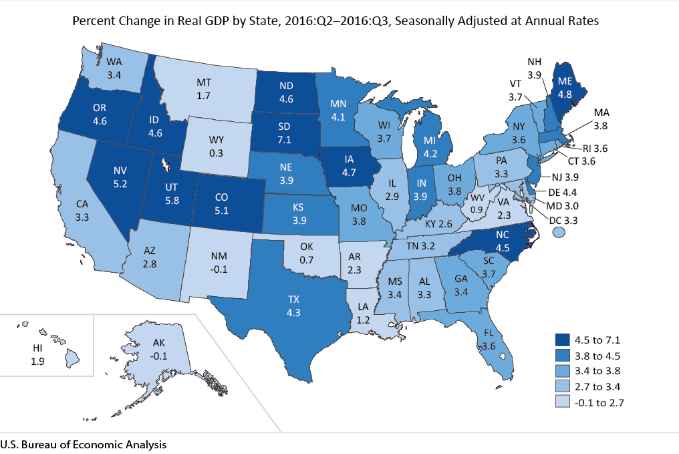 There were 3,944 initial unemployment claims in Arizona the week ending January 21, down 733 from the week prior. The four-week moving average was 4,082, topping 4,000 for the first time since the beginning of November. Continued claims for Arizona were 6.8% lower than the same time a year ago. Nationally, filings for unemployment benefits were 246,000 on a seasonally adjusted basis for the week ending January 28, making 100 consecutive weeks that unemployment claims have been below 300,000. The four-week moving average was 248,000.  
Phoenix home prices rose 5.2% over the year in November. This was again lower than the national figure of 5.6%, according to the January 31st release from S&P CoreLogic Case-Schiller Home Price Indices. Phoenix 12-month price changes have been slightly lower than the nation for several months. Seattle and Portland continue to have the highest over the year home price increases with 10.4% and 10.1%, respectively, followed by 8.7% for Denver. The 20-city composite over the year change for November was 5.3%.  
Real GDP for the United States increased at an annual rate of 1.9% in the fourth quarter of 2016 according to the advance estimate released by the Bureau of Economic Analysis on January 27. GDP rose 3.5% in the third quarter 2016. Revised fourth quarter GDP estimates (based on more complete data sources) will be released February 28 and March 30.