Second Quarter 2017 Economic Forecast Update
The Arizona economy coasted into 2017, with modest forward momentum. State job gains decelerated late last year and slower growth has persisted into early 2017. Nonetheless, the state continues to outpace the nation in job creation. In better news, the state's unemployment rate declined again last year, and is now back to a level last seen just before the Great Recession. Tightening labor markets are translating into faster wage and income growth and that should eventually boost retail sales. Overall, the outlook calls for the state to accelerate modestly in the near term, before growth slows as demographic forces (baby boom retirements) take hold.
Arizona Recent Developments
Official benchmark employment data for 2016 have been released by the U.S. Bureau of Labor Statistics (BLS). The data show that Arizona posted another year of solid gains, adding 68,300 net new jobs. That translated into 2.6% growth, close to the state's 2.5% growth rate in 2015, but well above the national rate of 1.7%. The Phoenix metropolitan statistical area (MSA) added 60,200 jobs last year, which generated 3.1% growth. That was slightly slower than the 3.2% pace in 2015. In contrast, job growth in the Tucson MSA accelerated significantly last year, from 0.8% in 2015 to 1.3% in 2016. Most of the job gains in Arizona were in Phoenix, which accounted for 88.1% of the state total. Tucson added 4,700 jobs, which accounted for 6.9%.
Statewide, job gains last year were concentrated in professional and business services; education and health services; leisure and hospitality; trade, transportation, and utilities; and financial activities ( Exhibit 1 ). These five sectors together accounted for 84.5% of state job growth. The only sector to lose jobs last year was natural resources and mining. This was caused by declines in copper production driven by low prices.
As  Exhibit 1  shows, the state added 6,600 construction jobs last year and employment in this sector has increased by 23,500 since hitting bottom in 2011 (annual basis). Nonetheless, construction employment remained more than 100,000 jobs below its pre-recession peak in 2006. Recent gains in construction jobs have been driven in part by increased residential construction activity. Arizona housing permits increased by 23.1% in 2016, with single-family permits up 11.4% and multi-family permits up 62.5%. Activity increased in the Phoenix MSA last year, with total permits rising 27.6%. That was fueled by both single-family (up 10.9%) and multi-family (up 75.6%) permits. Housing permits in the Tucson MSA rose by 1.6% last year, with single-family activity up 8.7% and multi-family activity down 77.2%.
According to the latest data from the U.S. Bureau of Economic Analysis (BEA), state personal income increased by 4.3% last year. With 1.1% population growth, as measured by the Arizona Office of Economic Opportunity, that translated into an increase in per capita income of 3.1%. Arizona's rate of increase last year was slightly above the national pace of 2.9%, but well above the national rate of inflation of 1.3%, measured by the national CPIU. That indicates a rising standard of living in Arizona.
Nonetheless, Arizona's per capita income remained well below the national average. Indeed, the percentage gap in 2016 was 17.7%, down slightly from 17.9% in 2015, but well above the gap 10 years ago of 10.1%.
Arizona's merchandise exports to Mexico continued to fall in early 2017, with the value of exports down 8.3% over the year in the first quarter. Pedestrian and personal vehicle passenger border crossings from Mexico to the U.S. through Arizona border ports rose last year, but at a slow pace. These trends were likely impacted in important ways by the major appreciation in the U.S. dollar versus the peso since mid-2014.
Arizona Outlook
The state outlook depends in part on future national economic performance. The national baseline forecast calls for the U.S. economy to continue to expand during the next decade. It also calls for a modest acceleration in the near term, with real GDP, our broadest measure of economic activity, expected to speed up from 1.6% growth last year to 2.6% growth by 2018. As Exhibit 2 shows, growth slows thereafter to the 2.0% per year range, as demographic forces (baby boomer retirement) weigh on the labor force.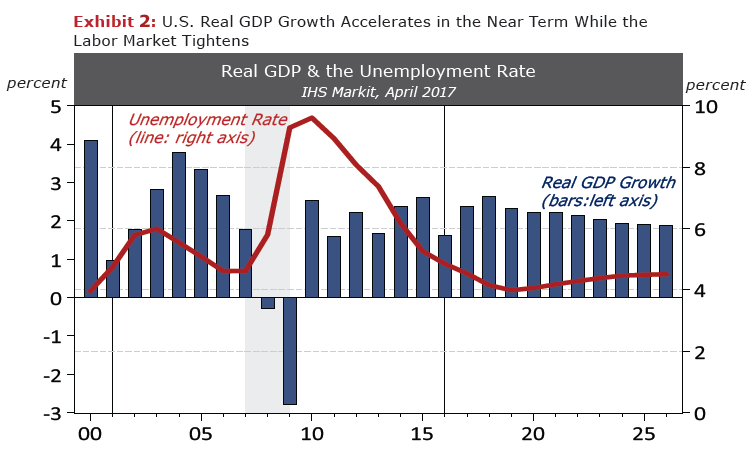 Continued steady improvement in the U.S. economy lays a solid foundation for gains in Arizona during the forecast. However, while Arizona is forecast to continue to outpace the nation in job, population, and income growth, it is not likely to return to growth rates that were common during the 30 years before the Great Recession. Exhibit 3 summarizes the current forecast for the state. Arizona's job growth is expected to decelerate modestly this year, with the rate falling from 2.6% last year to 2.4% in 2017. Job gains accelerate in 2018, with faster U.S. growth, before gradually declining to the 2.0% per year range during the remainder of the forecast.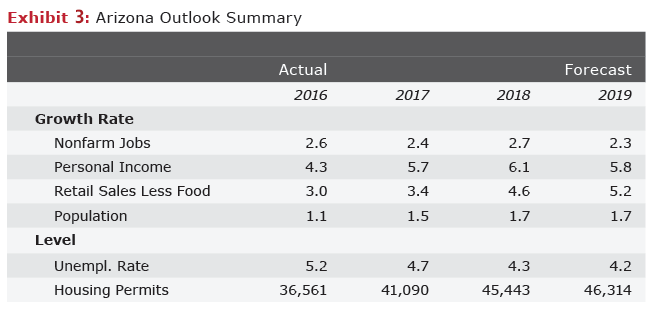 Sustained job growth means faster population gains, as Arizona draws migrants from other states. Overall, population growth is forecast to rise from 1.1% last year to 1.7% by 2018.
Income gains accelerate in the near term, with growth rising from 4.3% last year to 5.7% in 2017 and 6.1% in 2018. The large increase in 2017 is driven in part by the increase in the state minimum wage from $8.05/hour to $10.00/hour in 2017 and by tighter labor market conditions more generally. Note that the forecast calls for Arizona's unemployment rate to fall from 5.2% in 2016 to 4.2% by 2019. Stronger income growth is forecast to eventually translate into faster sales growth.
Forecast data for Arizona, Phoenix MSA, and Tucson MSA.
Need to know more?
Contact  George Hammond, Ph.D.,  about the benefits of becoming a Forecasting Project sponsor!